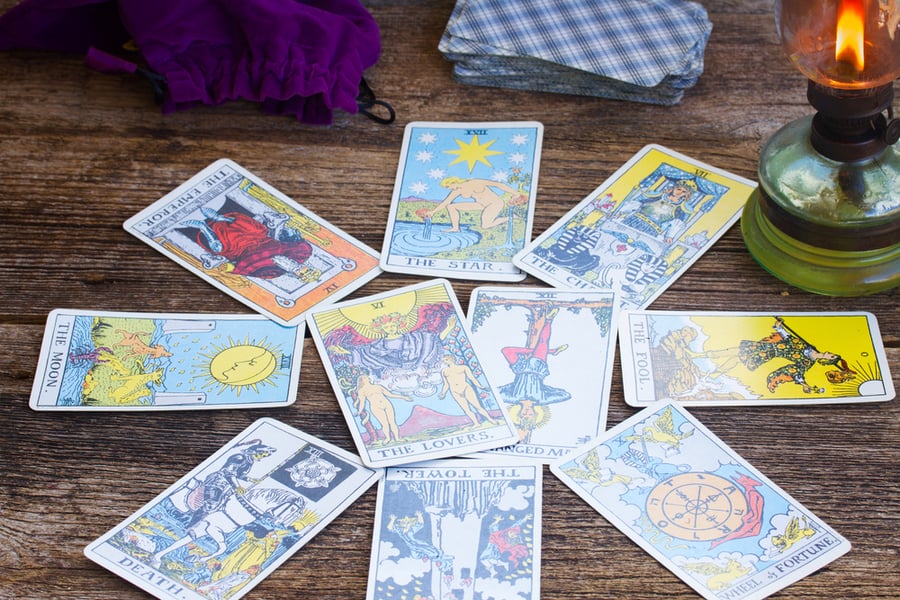 From the love-struck Romeo and Juliet to a pair of best friends, relationships come in all shapes.
Love and relationships are the best sensations of human experience. They bring forth a hoard of questions. People go naturally curious to dig up the dimensions of love.
No matter how secure your bond is, it's always good to consult the tarot cards.
Whether you are single, taken, or it's complicated, tarot readings bless you with powerful insights into your love life. You can make the right choices and understand your partner better.
Tarot cards hold valuable answers for the most complex questions. But which tarot spread should you use?
What are some of the best tarot spreads for relationships?
Use a 4-card tarot spread if you have fallen into love recently. A 5-card spread can help you explore compatibility with your partner. The 10-card Celtic Cross is also valuable for relationship readings. It's like a snapshot of your bond. However, if you are single, the perfect pick is the 7-card love tarot spread.
Finding love is beautiful, but knowing how it'll pan out is more crucial. So, if you are in a relationship or looking for one, let's break down the situation with the help of tarot cards. Today, we'll explore some unique tarot card spreads specific to relationships.
5 Best Tarot Spreads for Relationships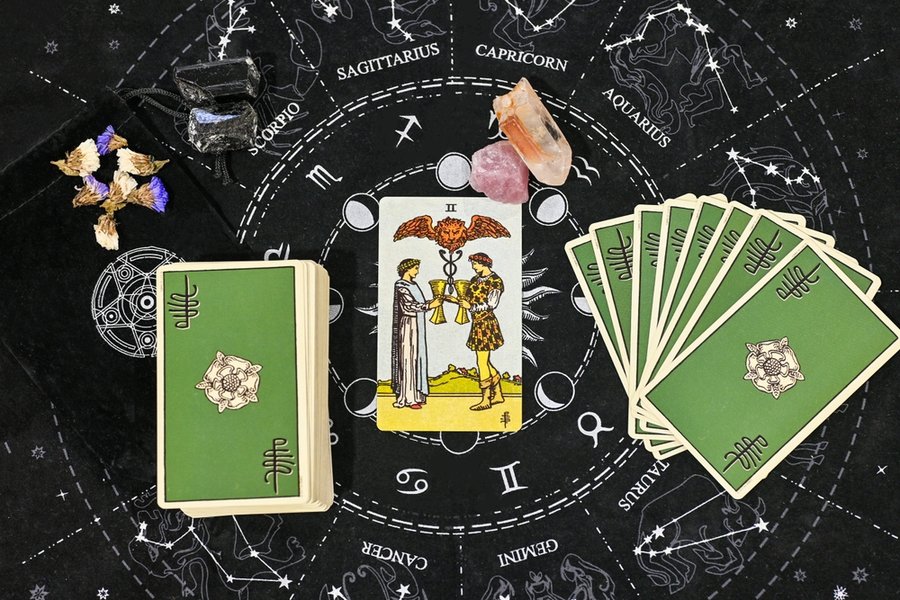 A good tarot spread can help you get a clear perspective of your current relationship. It allows you to measure your bond's strength and future.
You can dig deeper into the unknown with the power of tarot cards. Following is a list of the five most popular tarot card spreads for relationships.
So look around for a comfortable place, cleanse your tarot cards and start the reading immediately!
1. The 4-Card Spread for a New Relationship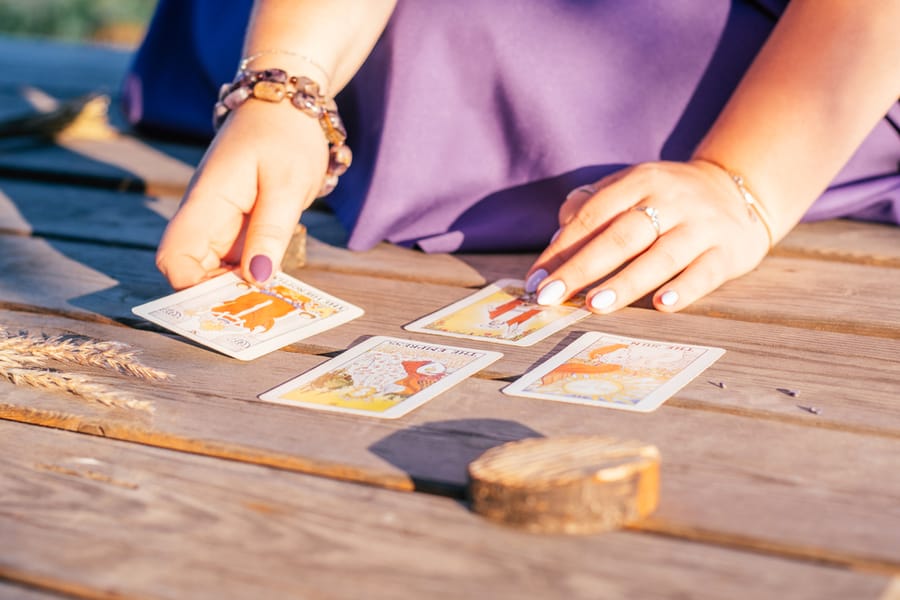 Did you fall in love at first sight? It seems as if you are under the charm of butterflies. In the initial phase of love, you would want your partner to be open about their feelings.
A good tarot spread can help you get clarity over the present and future of your courtship. To clear the clouds for a new relationship, a 4-card tarot spread is the best option.
It will help you develop the chemistry between you and your partner by revealing:
Card 1: "Challenges that may arise in the future."
Card 2: "The potential of your relationship blooming into a commitment."
Card 3: "How each of you views the journey."
Card 4: "The current state of your romantic association and what's to come."
2. The 5-Card Tarot Spread for Compatibility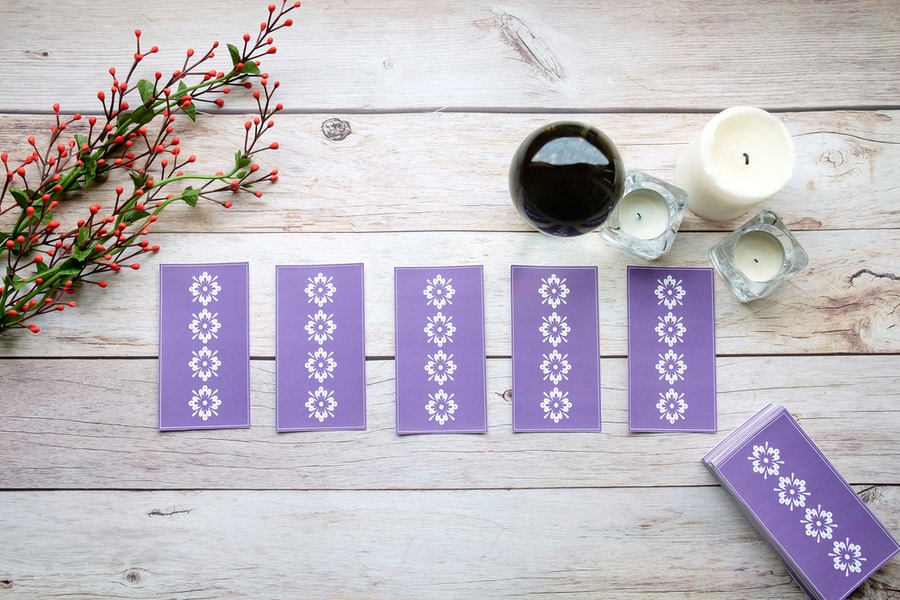 No matter how much love you hold, compatibility is constantly questioned in a relationship.
It is the most crucial element to making a relationship work. If you have the same interest goals as your partner, your connection will likely withstand any storm ahead.
Most expert tarot readers prefer a 5-card spread for reading compatibility between two people. This spread is equally helpful for a new and broken old love.
If you're doing a reading for yourself, ask these five questions to the tarot cards:
Card 1: "Are there any common goals between my partner and me?"
Card 2: "Are we aligned in any meaningful way?"
Card 3: "What issues can come between us and how to solve them?"
Card 4: "How are our future goals in sync?"
Card 5: "Should I wait for a better connection?"
It is important to note that tarot readings are never set in stone. Tarot cards can give directions and guidance, but the final choice is yours. Trust your intuition and make decisions that are right for you!
3. The 5-Card Spread for the Future of Relationship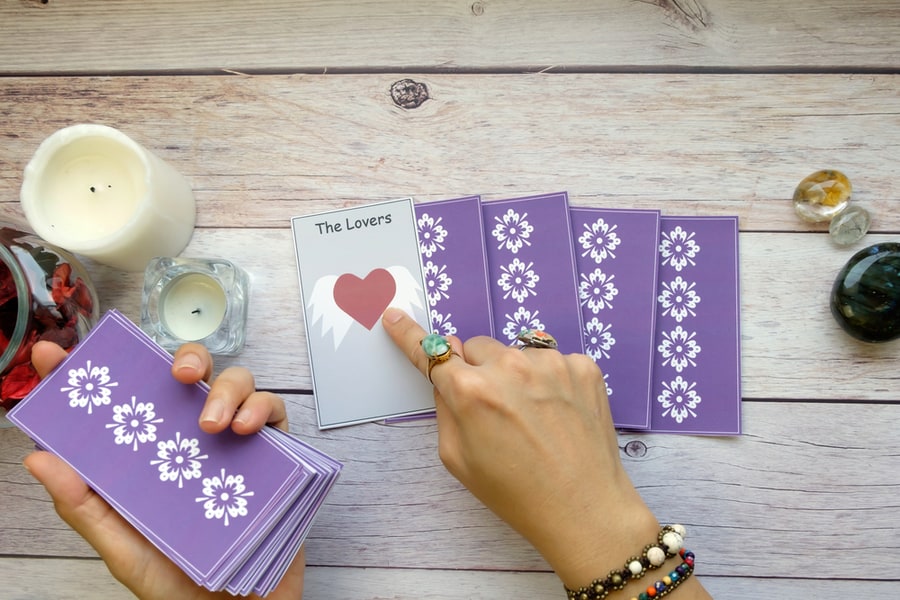 Who doesn't want to enjoy exploring something beyond the future? Especially in a romantic association, a couple is curious to know what holds next.
They wish to know the gaps in their bonding to overcome the weak areas.
So, if you want to get over the lacking in your linkage, try out the 5-card tarot spread. It will help you know about the future of your union.
Here are a few questions you can ask from each tarot card when reading.
Card 1: "What is the energy around our relationship?"
Card 2: "Where do I need to work more?"
Card 3: "How can we two grow together as partners?"
Card 4: "What should be my priority in this lovely bonding?"
Card 5: "What is the expected outcome of our relationship?"
4. The 6-Card Spread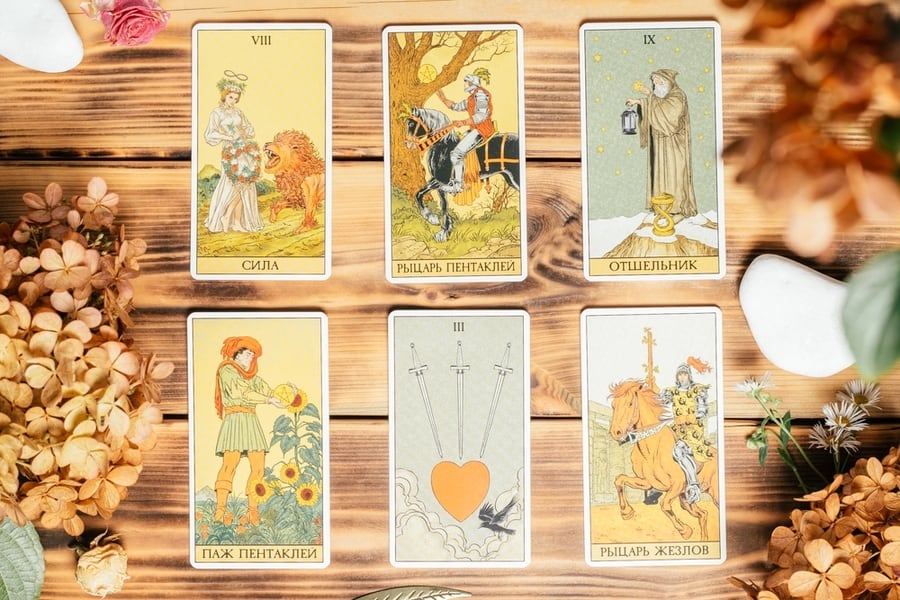 It doesn't matter how perfect your relationship is; you often need tarot cards to access its current status.
The 6-card spread is one of the best ways to evaluate your relationship's journey.
However, you must stay unbiased when thinking of your partner or the experiences in the relationship. You will indeed find answers to the prickly questions bothering you.
If a question doesn't make you feel good, skip that away. Tarot cards are all about positivity, so feel free to ask anything that makes you feel warm.
The 6-card tarot spread will help you get clear about questions like:
Card 1: "In what phase is our love life now?"
Card 2: "What fortune will I bring into the relationship?"
Card 3: "Where will all this end?"
Card 4: "What best can we bring out as partners in this bond?"
Card 5: "What lessons can I pick from this relationship?"
Card 6: "What should we do to make our love journey exemplary?"
5. Celtic Cross Tarot Spread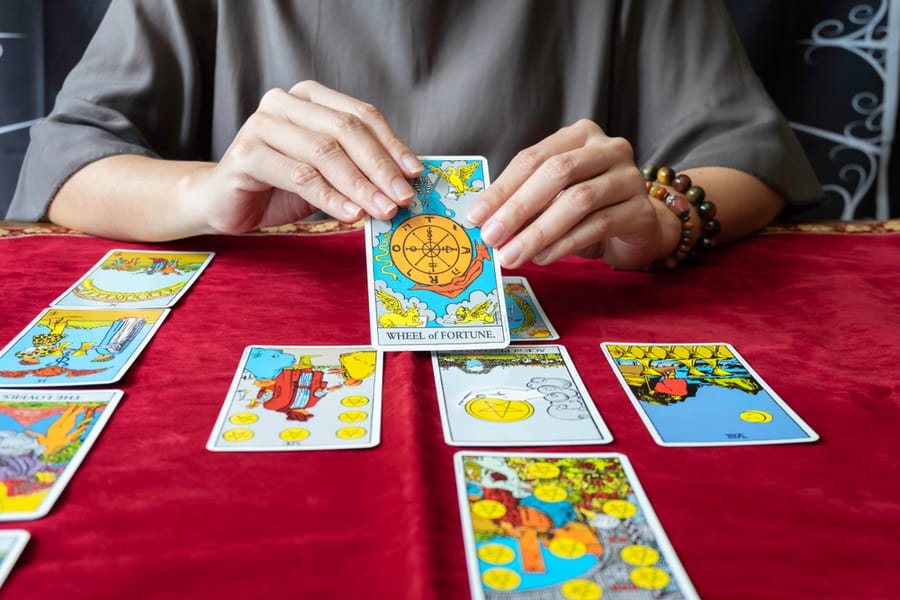 Celtic Cross is undoubtedly one of the oldest and most commonly used tarot spreads. It is best to reflect on the multiple aspects of your life.
From romantic relationships to friendships, the Celtic Cross spread is master in clarity.
This 10-card spread can answer your relationship queries. The ten tarot cards of this spread guide you with the following:
The way you perceive the relationship.
What troubles your understanding with the partner.
The core cause of the obstacles.
The present state of the problem.
Internal and external influences on the bond.
Short-term outlooks for the situation.
After spreading the ten tarot cards in a specific sequence, dive into the spiritual realm and ask the cards for your love queries. Pick a pair of cards and ask questions about your life after marriage. For example:
Cards 1 & 2: "How many years will our marriage last?"
Cards 3 & 4: "What will be my first child's gender?"
Cards 5 & 6: "Will I have a peaceful marital life?"
And so on.
Love Tarot Spread for Singles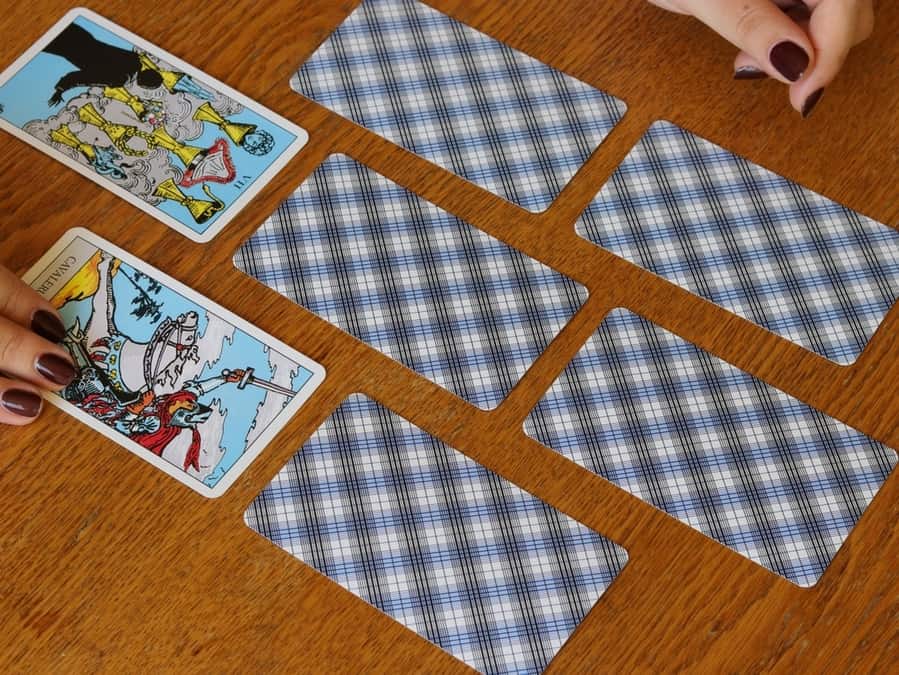 If you are looking for a new and fresh relationship, a 7-card tarot spread can help you. It is no wonder that tarot has an answer for every situation.
Whether you are heartbroken or single, this love spread will help you create a space for a healthy relationship.
Like the other tarot spreads, the 7-card spread also answers questions like:
Card 1: "What does my heart want?"
Card 2: "What did I learn from my past experiences in love?"
Card 3: "What is the barrier for me to love and attract someone?"
Card 4: "Am I ready to enter the new relationship?"
Card 5: "How do I know if I am emotionally ready for a romantic relationship?"
Card 6: "How should I change my aura to capture the energy of true love?"
Card 7: "Is that person living near my area the one I am looking for?"
Tips for Reading the Relationship Spreads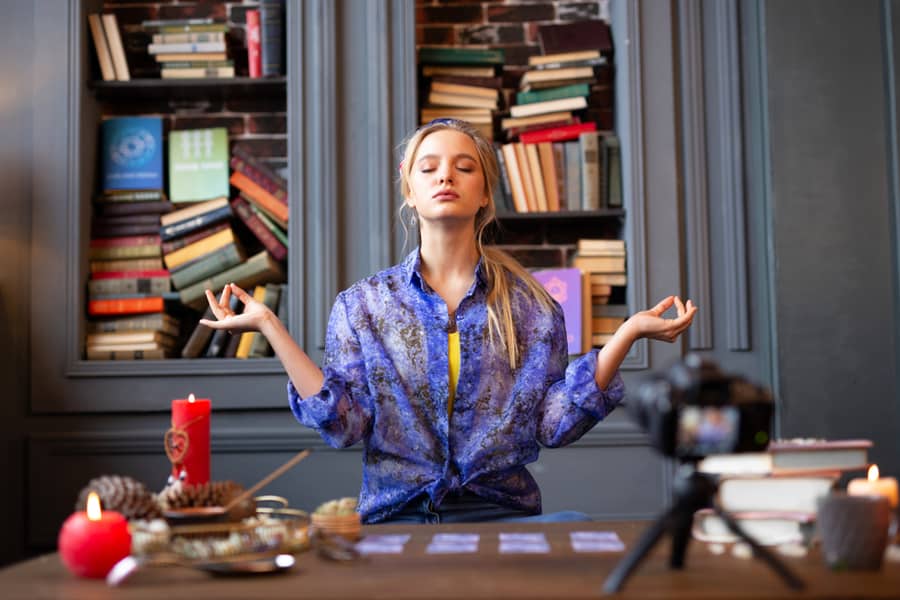 Tarot spreads are effective in giving valuable insights into love and relationship. However, you should remember some effective tips to get maximum clarity out of the cards.
Firstly, set a scene by lighting some candles. It will help you cleanse the aura for meditation. Close your eyes, leave the body gently, and start observing your senses.
This quick meditation will help you keep a positive attitude toward the card reading.
Keep your focus entirely on yourself and not on the other person. Stay as much unbiased as possible.
Finally, keep a written record of your reflections in general. If unsatisfied with the tarot spread answers, you can always pull another one.
What if I tell you to combine two tarot spreads, like the 6-card and Celtic Cross, together? You will be surrounded by tons of creative ideas and solutions. It's like a double power to your tarot reading session.
Takeaway
Tarot reading is a wonderful practice in the universe. You can find answers to anything bothering your life. Expert readers suggest numerous tarot spreads for healthy relationships. You can lay down any spread of your choice and get the readings.
After consulting the spreads, your relationship will likely survive at its best. Whether you choose a 4-card, 6-card, or 10-card spread, ensure you stay positive and unbiased. Clear your aura with a simple meditation before the session.
Frequently Asked Questions
How many tarot cards do you pull for a love reading?
You can go with pulling three cards for deep and insightful love readings. They help you analyze relationships with friends, family members, and co-workers.
What is the relationship card in tarot?
Of course, it is none other than the Lovers! This card is often associated with strong connections, unity, and unconditional love. It admires the beauty of relationships.
What tarot card means heartbreak?
The Ten of Swords symbolizes heartbreak and extreme sadness. It reflects betrayal, violence, destruction, and death. It signifies that you need to move on from a certain situation.